Sao Do Group connects investors with responsibility
Not only to be a reputable business partner, Sao Do Investment Group Joint Stock Company is also a trusted companion when providing investors necessary information of investment environment of Hai Phong.
Keeping close to the direction of investment attraction of Hai Phong
Decision No. 216/QD-UBND dated February 2nd 2017 of Hai Phong City People's Committee approving the investment promotion plan of Hai Phong city in the period of 2016-2020, orientation of investment attraction of the city.
Accordingly, the city will focus on attracting selective foreign investment projects in important areas such as high technology, supporting industries, renewable energy, clean energy, infrastructure development and human resource development; processing agricultural products, developing difficult areas, agriculture and rural areas, economical and efficient use of resources and energy savings, service industries with high added value, industries with a large share of exports, sectors that make sense of social security (medical examination and treatment, pharmaceutical industry and vaccines, bio-products), environmental protection and national security... Combining FDI attraction with promoting internal resources of domestic enterprises who play the role of "satellite".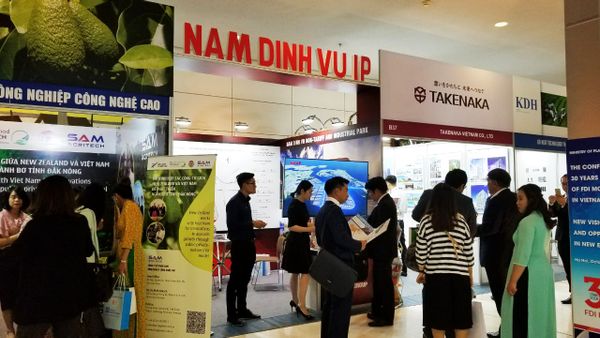 Nam Dinh Vu Industrial Park informs investors at the 30-year FDI summation event in October 2018.
Not attracting foreign investment at all costs point of view is also shown through the annual investment promotion programs. The target objects are FDI projects with high-technology, clean technology and eco-friendly. Say "no" to projects that need to use large amounts of water and large emissions, even if they are projects of hundreds millions US dollars.
Keeping close to the policy of investment attraction of Hai Phong city, Sao Do Group - Investor of Nam Dinh Vu Industrial Park (located in the center of Dinh Vu - Cat Hai Economic Zone) has been continuously and promptly updating investors the priority industries through investment promotion activities in the country and internationally.
Specifically, issues relating to Vietnamese law, investment policies of Vietnam Government and local authorities have been provided very openly.
In addition, the Group also supports investors to collect information or connect to state agencies and partners to learn about the appropriate investment environment and location.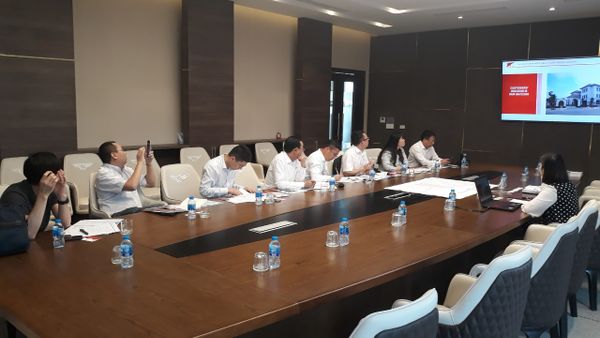 Investors are given specific information about investment policies in Hai Phong at Sao Do Group headquarters.
For the benefit of investors
10 km from the center of Hai Phong city, 5 km from Lach Huyen international deep seaport, 3 km from Hanoi-Hai Phong highway, 8 km from Cat Bi international airport and next to the Tan Vu - Lach Huyen bridge, Nam Dinh Vu Industrial Park was built with a large clean land fund, synchronous infrastructure divided into 4 functional multi-service sub-zones, meeting all requirements and scales.
Moreover, inside the Industrial park, there is Nam Dinh Vu seaport, which has been put into operation in 2018, helping investors to import and export cargos most conveniently as well as reduce their transportation costs much compared to many other investment locations.
"Especially, when investors implement the project, Sao Do Group will have a professional customer service team, who provides free support services for investment licensing procedures: Investment registration certificate, business registration certificate, land use right certificate in order to put the project into operation soon" said Nguyen Thanh Phuong, General Director of Sao Do Group. .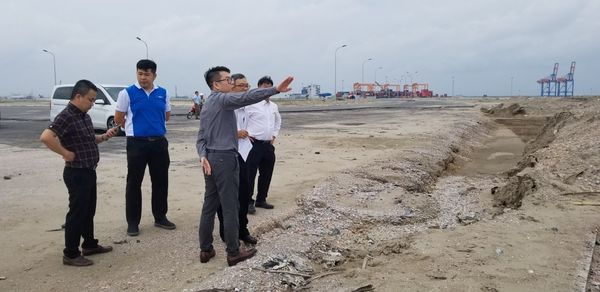 Foreign investors visit and study field in Nam Dinh Vu Industrial Park.
In order to put projects into operation stably and smoothly, besides security, environment, electricity, fire protection... must be ensured, human resource is also a necessary factor. "Labor is always a problem for investors who are worried about legal procedures. Therefore, when contacting investors, Sao Do Group will also actively provide them the reality of local labor force, and at the same time offer labor recruitment support services to help investors can connect to the source" Mr. Phuong said.
Source: Bao Dau tu