Hai Phong Investment Environment
Hai Phong is an ancient port city, ranking as the third largest in Vietnam. It serves as a crucial maritime transportation hub for the key economic region of the Northern Delta, connecting to the world, and is gradually establishing itself as an attractive and investment-friendly environment for both domestic and foreign investors. In recent years, Hai Phong has consistently been among the top localities in Vietnam attracting the largest foreign direct investment (FDI).
Statistics about the investment environment in Hai Phong city:

Investment Environment:

Labour Force:

Cumulative FDI Projects (as of June 2023): Over 982 projects. Cumulative FDI Capital (as of June 2023): Over $25.3 billion. Countries and territories investing: 36.

Main investment sectors: High technology, processing industry, manufacturing of electronic equipment, mechanical engineering, etc..

The competent authorities have extensive experience working with foreign enterprises.

Hai Phong city focuses on investing in the development of regional transportation infrastructure, including the Hanoi – Hai Phong expressway, Cat Bi International Airport, Lach Huyen Deep-water Port, etc.

Investment Promotion Centers in Hai Phong have been established with the purpose of advising enterprises on mechanisms, policies, and supporting the completion of necessary administrative procedures, as well as labor recruitment, helping investors minimize investment time and costs.

Population: Over 2 million people Area: 1,561.8 km2 Labor force: Over 1.2 million workers, mostly young and highly skilled. Education system: 4 universities, 25 colleges, and numerous vocational training schools. Salary level: The minimum wage is 4,680,000 VND per month.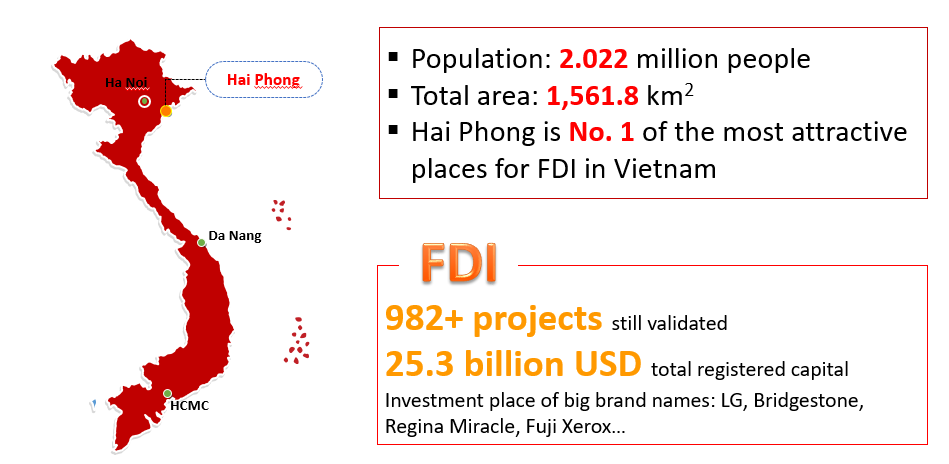 The data provided is referenced from the Foreign Investment Agency – Ministry of Planning and Investment and compiled from various other publicly available sources.