Due to the ability to transport large quantities of goods over long distances at low costs, maritime transport has been handling 80% of goods, promoting the commercial exchange of the world. Vietnam's Transport is not out of this trend. In 2019, maritime transport accounted for 80.1%; In 2019, 80% and 78.7% in 2020.
The trend of developing industrial zone attached to seaports
The formation of industrial parks attached to seaports has become an inevitable trend. Not only serving socio-economic development but also one of the factors that serve for port logistics services, for the development of the logistics industry. In Vietnam, the trend of industrial parks attached with seaports is growing more and promoted effectively.
According to CBRE experts, economic zones and industrial parks located near the sea always have a great investment demand and maintain outstanding prices and occupancy rates. Experience from industrial development in coastal provinces of some countries such as China and Thailand shows that the main industries that are prioritized to attract investment in these countries are outstanding chemicals, pharmaceuticals, machinery, automotive auxiliaries and electronics.
Therefore, Vietnam's coastal area is expected to have a similar trend, receiving more investment demand from both domestic enterprises expanding production and multinational corporations, experts said. Following this trend, Vietnam's coastal provinces will take advantage of the available potential to develop the industry. Compared to the land funds in northern provinces, Hai Phong also has supplies for industrial development.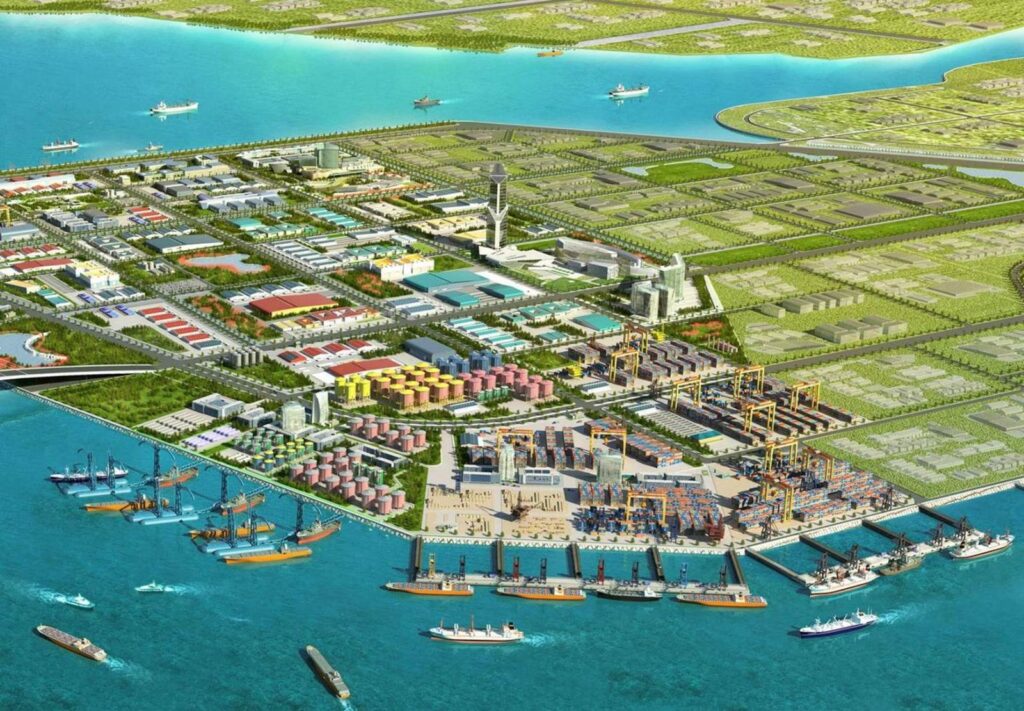 Haiphong City caught up with this trend
Hai Phong is one of the largest industrial centers in Vietnam with key industrial projects such as DEEP C Hai Phong II, III, and Nam Dinh Vu IP. Hai Phong's industrial parks had an occupancy rate of 56 percent.
In Hai Phong, the construction of commercial ports for large-tonnage vessels to be a focal place for import and export on long-sea routes (by container ships of 4,000-6,000 TEU; cargo ships of 5-8 thousand tons) is growing. And the practice shows that these ports have served very well for the socio-economic development of the northern provinces.
Nam Dinh Vu Industrial Park was established in 2009, is one of the important industrial centers promoting socio-economic development and economic trade establishments with regional and international countries of Hai Phong province in particular and the Northern region in general. 
Nam Dinh Vu Industrial Park is connected to the North-South railway line that can exchange economically with all regions in the country. The Hanoi – Hai Phong, Hai Phong – Ha Long expressway and Tan Vu – Lach Huyen bridge also help the industrial park easily expand the local and regional economy. In addition, Nam Dinh Vu is only 8km from Cat Bi International Airport. The advantage located right at the deep-water port of Lach Huyen and near the Cat Bi airport has brought attention to this Industrial Park from many investors across Vietnam and the world.
In addition, Nam Dinh Vu's advantages come from the master plan of the industrial park. With the goal of integrated, multidisciplinary, multi-sectoral, multi-sectoral development, Nam Dinh Vu is currently the only industrial park in Vietnam with 4 multi-service integrated functional subdivisions that resonate and complement each other: Vietnam Seaport area and logistics warehouse,  Liquid jetty and Oil & Gas area, Industrial area and Complex zone.
Nam Dinh Vu IP's master plan is designed to match all uses, all industries from heavy industry, food industry, light industry to specific industries such as the oil and gas industry, new energy and new materials. Currently, Nam Dinh Vu Industrial Park flexibly adjusts land rent, payment terms, and customer service to create the most favorable conditions for investors.