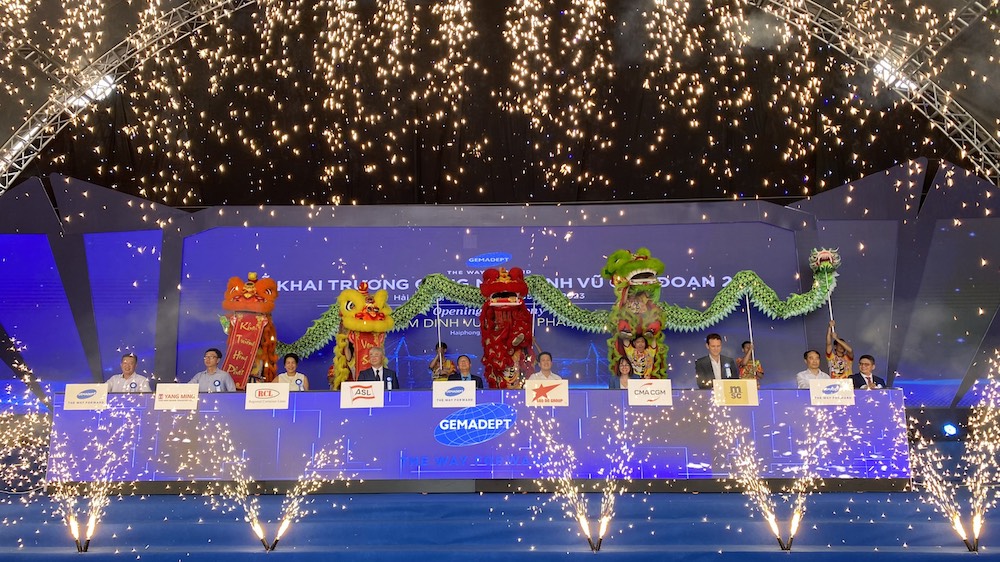 On May 24, 2023, Nam Dinh Vu port cluster 's Phase 2 was officially kicked off at Nam Dinh Vu Industrial Park, Hai Phong. As a joint venture investment between Sao Do Group and Gemadept Corporation, the project is identified as a key port in the North in the integrated ecosystem of Seaport – Industrial Park – Logistics, which can reach the international level in the south of Dinh Vu peninsula – Hai Phong.
Nam Dinh Vu port has been put into operation since 2018
Put into operation since 2018, Phase 1 of Nam Dinh Vu port with an area of 21ha, wharf length up to 440m, maximum vessel size to 48,000 DWT (reduced load) and capacity to 500,000 Teus/year, become the largest river port project in Hai Phong city. Located in the Seaport & Logistics Area of Nam Dinh Vu Industrial Park, Nam Dinh Vu Port together with ancillary warehouse system have created a unique competitive advantage for Nam Dinh Vu Industrial Park in optimizing costs of logistics, transportation, foreign trade…The signing ceremony of cooperation to deploy Phase 2 between Sao Do and Gemadept was held at the end of November 2019, and in 2021, phase 2 of the project was officially started. We are really happy when the phase 2 of port cluster has been officially inaugurated and put into operation so far.

Signing ceremony for the phase 2 between Sao Do Group and Gemadept Corporation in 2019
Up to now, the area of both phases is 42ha, 880m2 of wharf and capacity of 1.2 million TEU/year. Therefore, the construction and operation of Nam Dinh Vu Port phase 2 is very important in cargo circulation and sea transportation. In particular, with the application of international standards, modern and safe equipment and technology, Nam Dinh Vu has followed the commitments of the Investor in compliance with the criteria of sustainable development. The project is equipped devices that are great performance, electric operation and energy saving, minimizing dust, noise, and reducing greenhouse gas emissions into the environment.
"With the policy of sustainable development and optimization of operational efficiency, Gemadept developed Nam Dinh Vu port cluster as well as other ports in Gemadept 's ecosystem towards 'Smarter and Greener' '', said Mr. Do Cong Khanh – Deputy General Director of Gemadept Corporation.
In order to improve port capacity and meet market 's demand, Nam Dinh Vu will soon deploy phase 3 to put it into operation in 2025. According to the plan, the total area of the port cluster is 65 ha, total designed capacity is 2 million TEU/year, 7 berths with a length of 1.5 km and a capacity to receive container ships of up to 48,000DWT. Nam Dinh Vu port cluster will be the largest river port in the North that are able to feeder ships, the largest intra-Asian vessel in the river port area. When the project is completed, businesses in Nam Dinh Vu Industrial Park will certainly enjoy all the outstanding benefits that the internal port cluster brings.