All businesses want to find land and factories to rent at an affordable price to meet their production needs. A rent price survey is one of the essential factors before deciding. The following article by Nam Dinh Vu will provide information about the current price's industrial land for rent.
1. Current situation of the industrial land for rent price
Although the current epidemic situation is still stressful and volatile, the current condition of industrial land and factory for rent prices is still assessed to increase. Because Vietnam can still control the epidemic quite well, factories and companies still have development plans and work stably during the epidemic season. Everything is still maintained.
Along with the investment and improvement in the quality and infrastructure of these areas, the prices are continuously increasing. According to the assessment, it can grow from 9-10% compared to the same period of previous years. Another point that makes prices always increase is the ability to attract investment from abroad in Vietnam. That leads to a situation where the supply of industrial land and factories is lower than demand, creating opportunities for rents to be pushed up.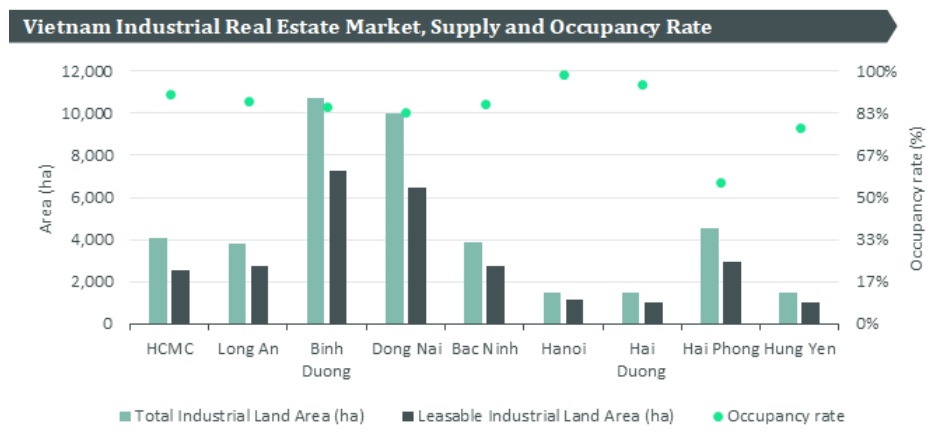 2. Price stabilization policy
However, the economic situation in Vietnam is still being seriously affected by the epidemic when most businesses have had to suspend or maintain production activities to a minimum. Therefore, it is essential to adopt policies to stabilize land rents to solve financial difficulties.
The Government has timely paid attention to and intervened in this matter because the land rent in industrial land for rent is "surprisingly high." Typically, there are plans to expand the scale of industrial zones with large areas of natural land for lease. Thanks to that, businesses will have more choices, and the price will be adjusted positively.
3. Land rental price list for industrial zones of Vietnam's provinces and cities 2022
With the advantage of attracting abundance investment capital from abroad, industrial parks are increasingly focused on developing on a large scale and oriented towards sustainable development, continuously improving to meet market demand. That helps businesses have more choices in renting premises, ensuring the quality of the land and saving costs for businesses.

4. Industrial park land for rent price
When renting industrial park land in the northern provinces such as Bac Ninh, Bac Giang, Hai Duong, Hai Phong, Hung Yen, Ha Nam, Thai Nguyen…, the lowest price ranges from 58 – 120 USD/m2/cycle rental period. The average price ranges from 67 – 190 USD/m2/lease cycle. The highest cost is 70 to 260 USD/m2/lease cycle. Hanoi is always the locality with the highest price.
In the central provinces and cities such as Nghe An, Quang Ngai, Quang Nam, Da Nang… The lowest price for industrial land for rent ranges from 38 – 50 USD/m2/lease cycle. The average price is 52 to 75 USD/m2/lease cycle. The highest rental rate is 65 to 100 USD/m2/lease cycle. In which Da Nang is always at the highest level.
In the southern provinces such as: Ho Chi Minh City, Dong Nai, Long An, Binh Duong, Ba Ria – Vung Tau, Tay Ninh… The average rental price is 90 – 225 USD/m2/lease cycle. The lowest industrial land for rent cost is 50 – 150 USD/m2/lease cycle. The highest rental rate is from 100 to 300. Ho Chi Minh City is always the area where this rental rate peaks.
5. Industrial land for rent price of Nam Dinh Vu Industrial Park
One of the industrial parks located in a critical area, which can meet all requirements in terms of infrastructure and geographical location, Nam Dinh Vu industrial park is the first choice. The position is the central axis of the economic triangle Hanoi – Hai Phong – Quang Ninh, suitable for trade, purchase, and exchange. Nam Dinh Vu Industrial Park is also convenient for moving by road, rail, air, and sea.
Nam Dinh Vu Industrial Park is planned with four subdivisions, diversified in industries and fields of activity. It has a significant advantage in terms of climate when the area has two distinct seasons and mild temperatures.
When renting premises here, customers will have the opportunity to own industrial land for rent in a prim
e location, with significant, synchronous infrastructure and ready to hand over. Lease term until 2059 with complete and complete legal documents. In addition, now the unit also has many tax incentives for customers when renting, such as:
Income tax exemption for the first four years;

Support for newly established, unprofitable businesses by exempting income tax for up to 7 years;

100% land use tax exemption;

50% reduction of income tax for nine consecutive years, from the time that businesses have the income and are taxable.
Accompanying the development of industrial parks is a significant increase in land rental rates for industrial parks and factories. Hopefully, the above sharing will help people have a more holistic view of this issue. You can make the right decisions and choices that are beneficial to your business.
Tag: industrial land for rent, 2023