Development situation of new industrial parks projects in Hai Phong
1. Determining the direction of modern – smart – sustainable of Hai Phong Industrial Parks development to "Create the future"
Through the resolutions of the Central Committee on the development of the Red River Delta and urban development plans, Hai Phong has identified three main pillars of economic development: industry-technology, seaport-logistics, tourism-commerce. Among these, the focus is on developing modern, intelligent, and sustainable industries.
As of the end of 2022, out of 947 FDI projects totaling $24.5 billion that are still in effect, 93% of the investment capital is in industrial parks in Hai Phong. Of the 56 projects, 81% of FDI is in high-tech processing and manufacturing sectors.
Since the first industrial park in Hai Phong was established, the need for sustainable development through eco-industrial zones has been recognized as an essential and important factor in deciding the competitiveness of the city in general and infrastructure investors in particular. Therefore, choosing to develop high-quality industrial zones to promote sustainable investment attraction is an optimal goal that Hai Phong always aims for. Currently, Hai Phong is one of five provinces approved by the Ministry of Planning and Investment to pilot the Eco-Industrial Park project based on the global concept of eco-industrial parks.
2. Building a series of new industrial parks in Hai Phong in 2023
Hai Phong has an economic zone of Dinh Vu – Cat Hai covering an area of ​​22,540 hectares and 14 industrial zones currently in operation (with a total area of ​​over 6,000 hectares, including 9 industrial parks located within the Economic Zone and 5 industrial parks located outside of the economic zone).
In the period from 2021 to 2025, the city is planning to build 15 new industrial parks with a total area of ​​more than 6,200 hectares. So far, the Tien Thanh Industrial Park with an area of ​​410.46 hectares has been approved by the Prime Minister for investment and will commence construction shortly. The Xuan Cau Industrial Park with an area of ​​752 hectares has started construction on May 13, 2023.
Four other industrial parks, including Nam Trang Cat, Thuy Nguyen, Trang Due 3, and Giang Bien 2 are being processed at the Ministry of Planning and Investment. Seven other industrial zones with a total area of ​​3,161 hectares are undergoing preparations for establishment.
Along with the development of new industrial parks, Hai Phong also plans to expand existing industrial zones and develop industrial clusters to increase land resources. In addition to the current industrial clusters being developed, including Tien Cuong 2, Dai Thang (in Tien Lang district), and Giang Bien (in Vinh Bao district), the city has recently decided to establish new industrial clusters: Quang Phuc (in Tien Lang district), Dung Tien-Giang Bien (in Vinh Bao district), An Tho (in An Lao district), and is continuing to add other industrial clusters to the city's industrial cluster development plan.
Map and list of new industrial parks in Hai Phong.
Reference source: Hai Phong Planning
"Building a green future" with Nam Dinh Vu Industrial Park
Mr. Nguyen Thanh Phuong, CEO of Sao Do Group – the investor of Nam Dinh Vu Industrial Park, shared: "To aim for a green and environmentally friendly industrial park, right from the planning stage, we have allocated a lot of land for prioritizing greenery and landscape development. For Nam Dinh Vu Industrial Park, the area for greenery and lakes is about 150 hectares, in addition to 200 hectares of green land required for businesses in the industrial park, totaling over 350 hectares for landscaping.
At the same time, Nam Dinh Vu Industrial Park is planned with many functional sub-areas to support each other like an ecosystem, creating circulation between the chains within the industrial park''.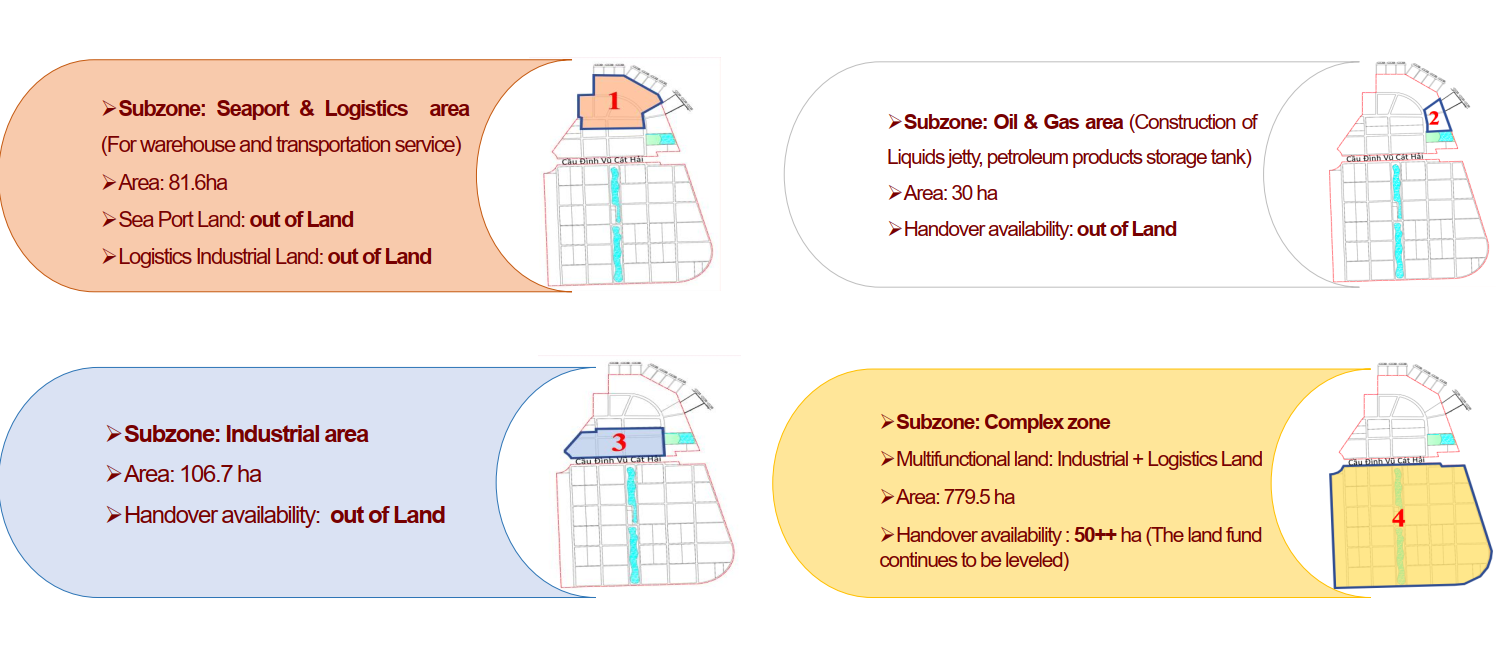 4 functional subzones in Nam Dinh Vu IP
During operation, Nam Dinh Vu has strict requirements for selecting projects attracted to this area.
Hai Phong City is a locality that carefully selects projects when deciding to invest here. Therefore, projects that pose environmental pollution risks and use many resources including labor, clean water, coal, fuel, etc. are not attracted to investment in Hai Phong. Therefore, Nam Dinh Vu Industrial Park has become more specific and detailed with the projects that the industrial park identifies will attract investment. Currently, the industrial park also attracts projects that ensure environmental protection, use less labor, and have a very high level of automation system. This is also the direction that Nam Dinh Vu Industrial Park is aiming to prove its concern for the environment.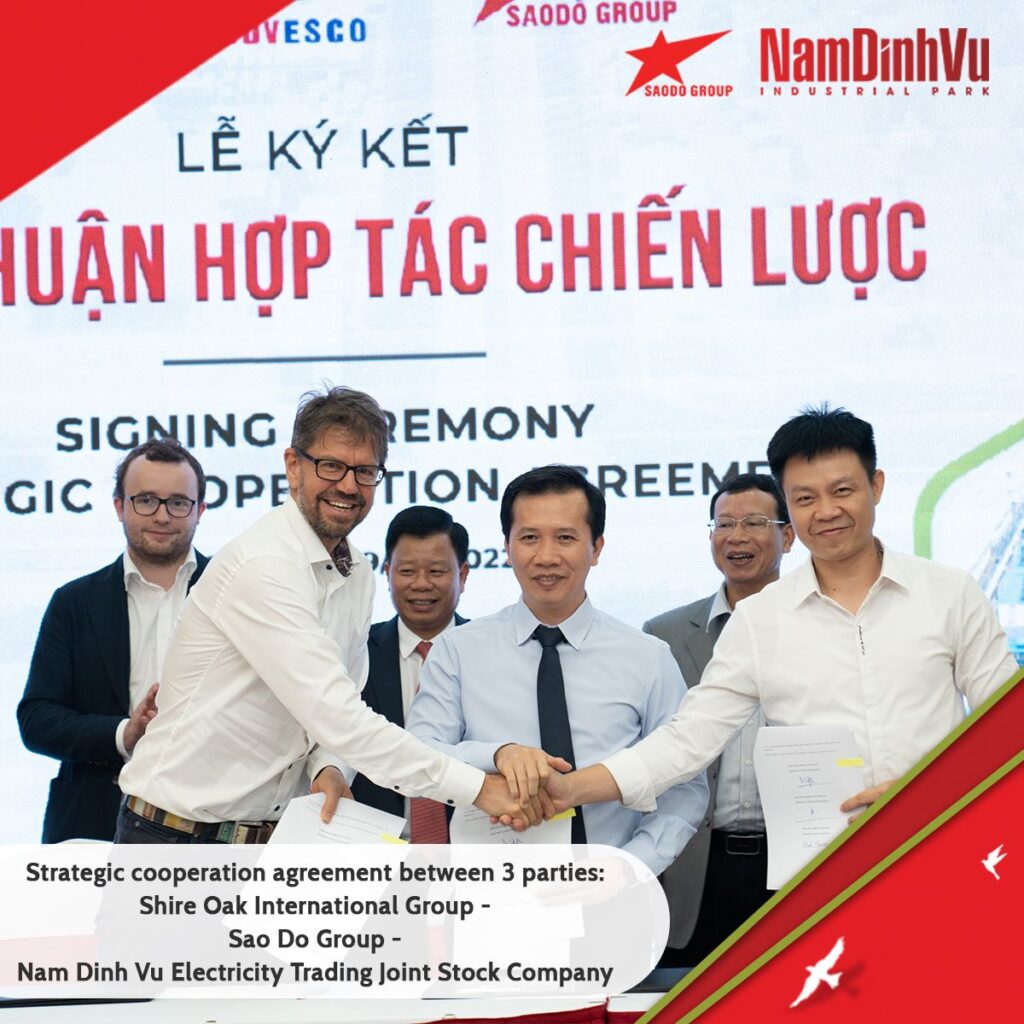 Besides, Nam Dinh Vu Industrial Park is also going to provide investors with more options for using clean energy. We has also worked with a strategic partner to apply a roof voltage system  so that investors can use solar power. In addition, Nam Dinh Vu Industrial Park is also studying the use of wind power to bring more choices to investors.
Tag: new industrial park, industrial zones, Hai Phong, investment