In pursuit of the government's sustainable development objectives, Sao Do Group and CME Solar Investment Joint Stock Company (CMES) have joined forces to invest in a rooftop solar power system within Nam Dinh Vu Industrial Park in Hai Phong.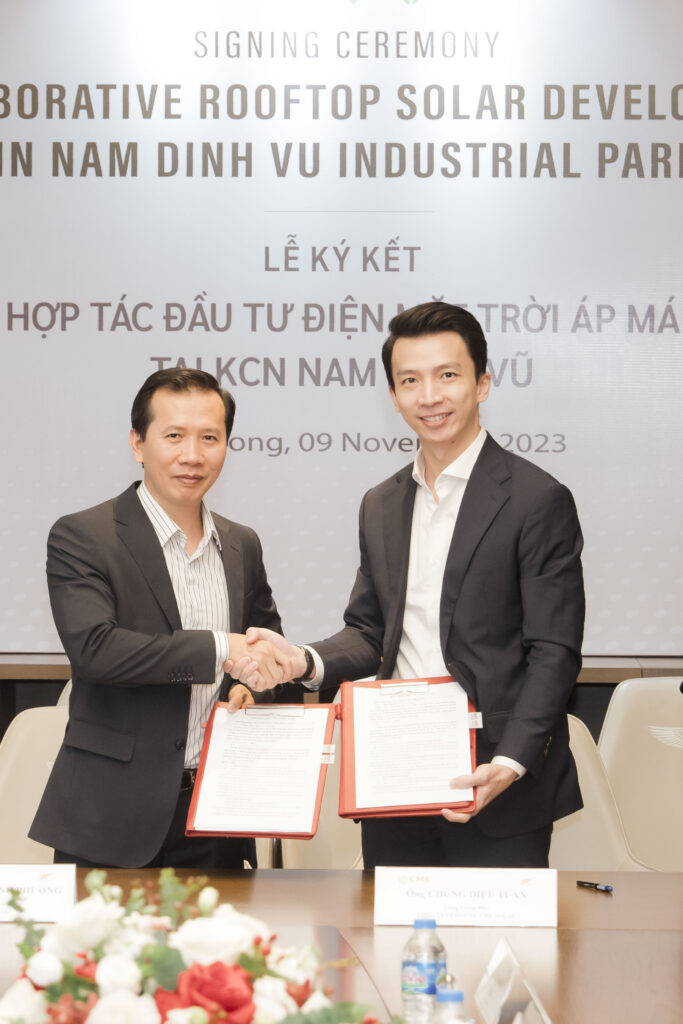 The collaboration, announced during the signing ceremony on November 9, marks a promising alliance between Sao Do Group—a diverse economic enterprise with extensive development experience in Hai Phong—and CMES Company, a leading developer of "green energy" in Vietnam.
The primary aim of this partnership is to assist businesses within Nam Dinh Vu Industrial Park in accessing and utilizing clean power sources with optimal cost efficiency. This initiative also aims to reduce CO2 emissions, contributing significantly to the sustainable development of the industrial park.
Green Energy Transformation in Nam Dinh Vu Industrial Park
Spanning 1329 hectares, Nam Dinh Vu Industrial Park holds a prime location in the Hai Phong Economic Zone, making it highly appealing to investors. It stands out as the sole industrial park in Vietnam boasting four functional areas with modern, synchronized, and comprehensive infrastructure.
At present, Nam Dinh Vu Industrial Park has successfully attracted 65 domestic and international projects from countries such as Japan, Korea, China, Germany, France, and Singapore. The total estimated solar power capacity that can be installed in Nam Dinh Vu Industrial Park exceeds 1 GWp.
Sao Do Group, a prominent investor in industrial parks in Hai Phong, is committed to investing in renewable energy for the development of green and ecological industrial parks. In collaboration with CME Solar, they are deploying solar power systems within the industrial park. This not only alleviates pressure on the national electricity system, particularly during peak dry seasons, but also aligns with FDI enterprises' increasing adoption of renewable energy. This integration supports Vietnam's commitment to achieving "zero" greenhouse gas emissions by 2050.
Businesses within Nam Dinh Vu Industrial Park have collectively signed a cooperation agreement to advance green development, prioritizing environmentally friendly technologies and the deployment of renewable energy in their production and business operations. Together, they are constructing a sustainable community, contributing modestly to the promotion of positive values and the fulfillment of commitments to sustainable development. FDI enterprises are actively implementing their "greening" strategy by utilizing renewable energy, particularly through rooftop solar power systems on their factories, headquarters, and offices.
According to energy experts, the potential for solar energy on factory rooftops in Vietnam remains largely untapped, with only around 20% of the potential exploited, leaving over 16,000 MW still unused. The European Union's carbon border adjustment mechanism (CBAM), effective from October 1, 2023, is compelling businesses across various industries to reduce carbon emissions to maintain competitiveness in the market.
Mr. Nguyen Thanh Phuong, General Director of Sao Do Group, emphasizes, "Converting to green energy is an effective solution, especially with a reliable partner like CME Solar to deploy and develop rooftop solar power systems in Nam Dinh Vu. We hope that businesses and factories in Nam Dinh Vu can access power sources at competitive prices, save costs, and support us in achieving the 2050 Net Carbon target."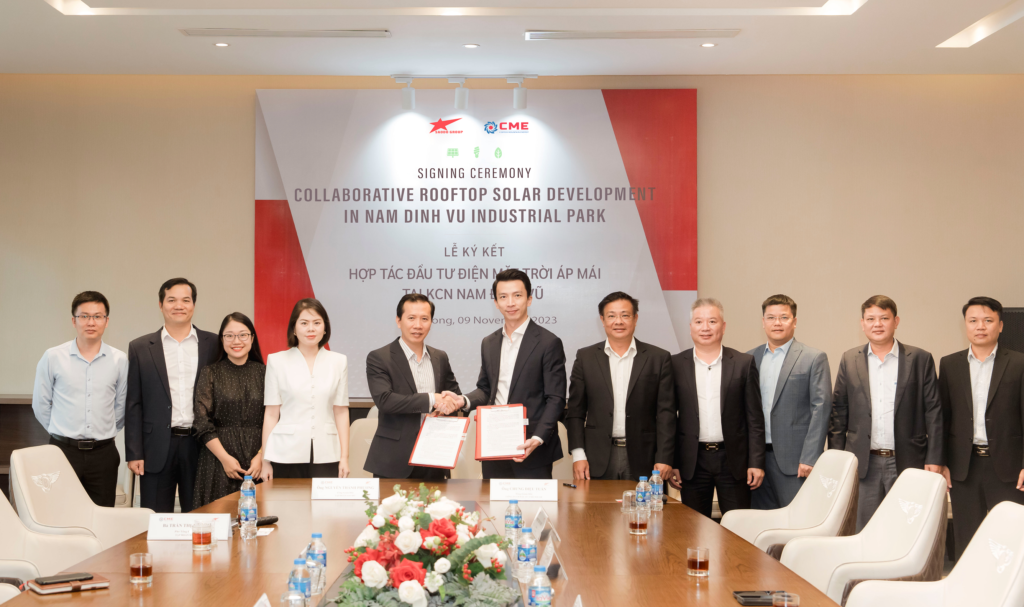 The scene of the signing ceremony
CME Solar – Pioneering Green Energy Development in Vietnam
As a trusted collaborator for numerous domestic and international enterprises, including Foxconn, LG Innotek Hai Phong, and Song Hong Garment, CME Solar solidifies its position as Vietnam's premier green energy developer. Through a strategic cooperation agreement with Sao Do in the realm of clean energy, specifically the deployment of rooftop solar power systems at Nam Dinh Vu Industrial Park (IZ) in Hai Phong, CME Solar continues to play a pivotal role in shaping the landscape of green energy development in Vietnam.
Several compelling factors contribute to the preference of Sao Do Group and other businesses in choosing CME Solar as their partner for solar energy projects in Vietnam. According to Mr. Chung Dieu Tuan, CEO of CME Solar, the enterprise boasts five key advantages:
Technical and Quality Assurance: CME Solar prioritizes safety and sustainability throughout the project's lifecycle, adhering to stringent domestic and international safety standards.
Efficient Project Management: Renowned for swift progress and a profound understanding of the Vietnamese market, CME Solar excels in project management.
Competitive Procurement and Financial Policies: CME Solar ensures competitive pricing without compromising on engineering, safety, and performance standards. The company collaborates with reputable suppliers and technical partners, attracting investment from international financial institutions while overseeing the entire project lifecycle.
Comprehensive Operations and Maintenance (O&M): CME Solar's O&M team is involved from the project's design stage, ensuring optimal operation and maintenance through a dedicated monitoring system.
Multicultural and Customer-Centric Approach: With an effective and professional multicultural team, CME Solar places customer satisfaction at the forefront, committing to sustainable business development.
Notably, ResponsAbility Fund from Switzerland has recently extended loan support of up to $20 million in secured long-term debt financing to CME Solar Investments. This substantial support, the largest investment by ResponsAbility Fund in a non-financial organization in Vietnam by 2023, brings CME Solar's total investment to $32 million to date. This follows the initial loan package received in 2021, which facilitated the development of a 29 MWp rooftop solar project at the Foxconn factory in Bac Giang and Bac Ninh.
With the 2023 loan support, CME Solar anticipates deploying a series of projects, emphasizing increased investment in commercial and industrial (C&I) solar energy development across diverse sectors such as manufacturing, electronics, food and beverage, and textiles in Vietnam. Simultaneously, the company aims to expand its footprint throughout Southeast Asia.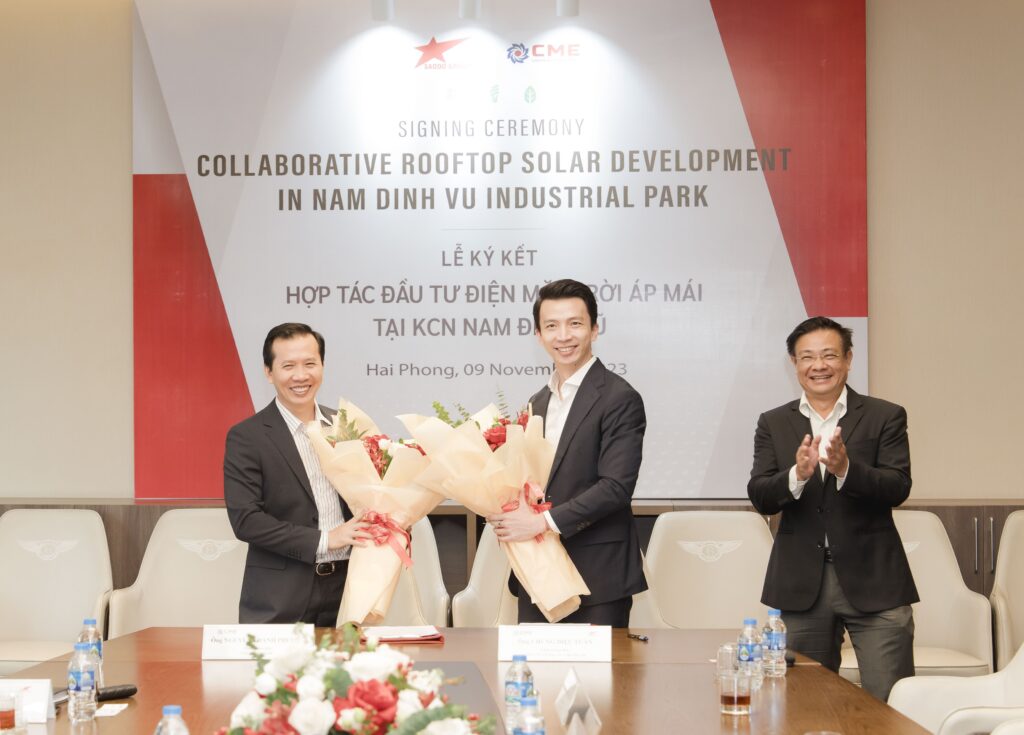 The Nam Dinh Vu Industrial Park, strategically integrated with the northern seaport system and logistics services, aspires to evolve into a national logistics service center by 2025. Achieving this vision necessitates the transformation into a contemporary industrial park capable of attracting cutting-edge technology. The effective utilization of human resources and staying abreast of advanced trends are pivotal in realizing this objective. Embracing green energy sources through NLMTAP underscores their commitment to sustainable development. This shift not only facilitates industrial park businesses in accessing eco-friendly power but also alleviates the strain on the national electricity system, addressing electricity shortages during the dry season in the Northern region.