The appearance of many foreign investors from Korea, Japan, China, and some European countries has made Vietnam's industrial real estate market become vibrant again. Industrial real estate, factories, and warehouses for rent are predicted to be the top attractive investment segments and rapidly successful in 2022.
1. Potential for leasing warehouses renting today
The demand for both warehouse rental and warehouse rental prices is gradually increasing.
In recent years, the Vietnamese gloomy economic situation has seriously affected many industries due to the great impact of the COVID-19 pandemic. However, e-commerce, multi-channel retail development, and global supply chain development have shown outstanding development, resulting in a growth in demand for storing goods and necessities or essentials. Accordingly, this inevitable flow creates a strong driving force for the development of logistics and warehouse leasing.
With the recovery of the world economy, our country's economy also has some significant and positive changes. After 15 years of becoming a member of WTO, Vietnam has strongly developed in lots of industries such as garment, petroleum, and mechanical engineering. At the same time, our country is benefiting from the advantage of production shifting from China by many well-known investors around the world. This is a great opportunity for the warehouse rental market in Vietnam in particular and industrial real estate in general.
"Vietnam is an ideal destination for businesses that demand to diversify their products and avoid depending on one country in the supply chain. Localities possessing the advantage of geographical location suitable for trade activities, with a seaport system and developed transport infrastructure are attractive destinations", said Mr. John Campbell, Deputy Director of the Division Industrial Services of Savills Vietnam.
According to Savills Vietnam, the demand for warehouse rental is gradually increasing, while the supply is not enough, which is one of the reasons why warehouse rental prices are high. Especially, in areas with particularly high demand such as Ho Chi Minh City and Hanoi, warehouse rents and warehouse rents tend to increase dramatically, reaching the highest thresholds in the region.
Therefore, Ho Chi Minh City and Hanoi as well as the suburbs are the most attractive locations for businesses when deciding to build warehouses for factory rental. The suburbs, especially the coastal areas, concentrated in clusters around the city with large land banks and competitive prices, will develop distribution centers and high-quality automated warehouses as connection points with some big markets.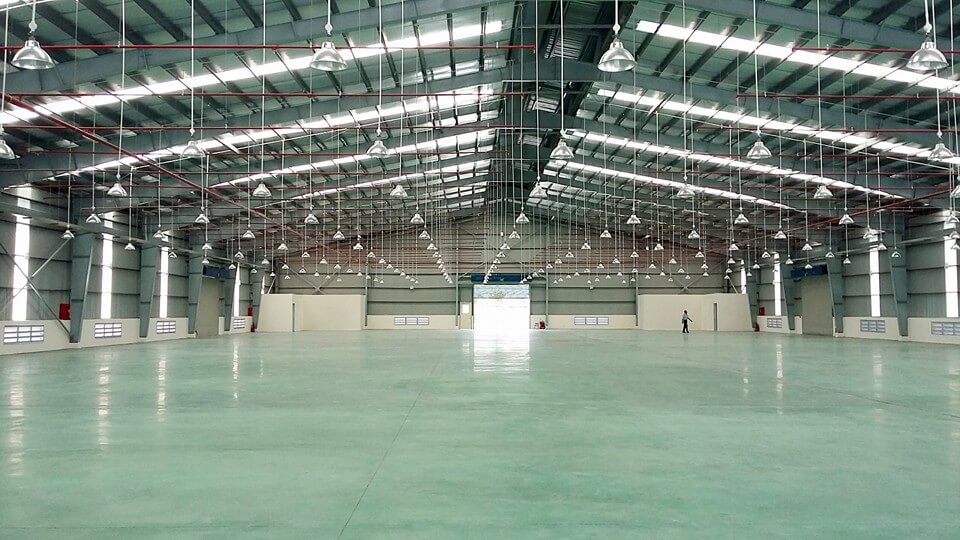 2. Factory land in Nam Dinh Vu Industrial Park
It can be seen that the demand for warehouse rental is rocketing, in order to seize the opportunity to participate in this potential market, industrial real estate projects including Nam Dinh Vu Industrial Park are one of the top spot destinations.
Characteristics of warehouses land, warehouses in Nam Dinh Vu Industrial Park:
Total area is up to 1,066 hectares, handover area is 50++ hectares with a large land bank, which is suitable for any scale of business.

The mentioned land is ready to hand over with full technical infrastructure and service utilities.

Flexible leasing, cutting land according to the required area of ​​​​customers.

Be equipped with utilities and gadgets, and connect to the rental area as soon as possible.
In addition, the warehouses and warehouse land in Nam Dinh Vu has a prime location for Hai Phong Port, Cat Bi International Airport, Hanoi – Hai Phong Expressway, and Hai Phong – Ha Long Expressway. A complete infrastructure system with roads, waterways and even air transportation is invested in and developed, creating conditions for the development of businesses. In particular, Nam Dinh Vu is the industrial zone with the highest tax incentives in Vietnam.
Read more: Industrial real estate vietnam
Reference:
Warehouse for rent – An important factor of industrial real estate  – https://industrial.savills.com.vn/?lang=vi 
Warehouse for rent: The new investment trend for the new industrial era – https://industrial.savills.com.vn/?lang=vi 
The demand for warehouse renting is strongly increasing – https://bds.tinnhanhchungkhoan.vn/