On June 3, 2023, during his official visit to Vietnam and a tour of the RMIT University Innovation and Business Connection Center, Australian Prime Minister – Mr. Anthony Albanese had a discussion with representatives from Sao Do Group, the investor of Nam Dinh Vu Industrial Park. Mr. Nguyen Thanh Phuong, the CEO of Sao Do Group, provided an update on the cooperation between Sao Do Group and RMIT University, as well as the plan to establish a High-Quality Human Resources Training Academy in Hai Phong City.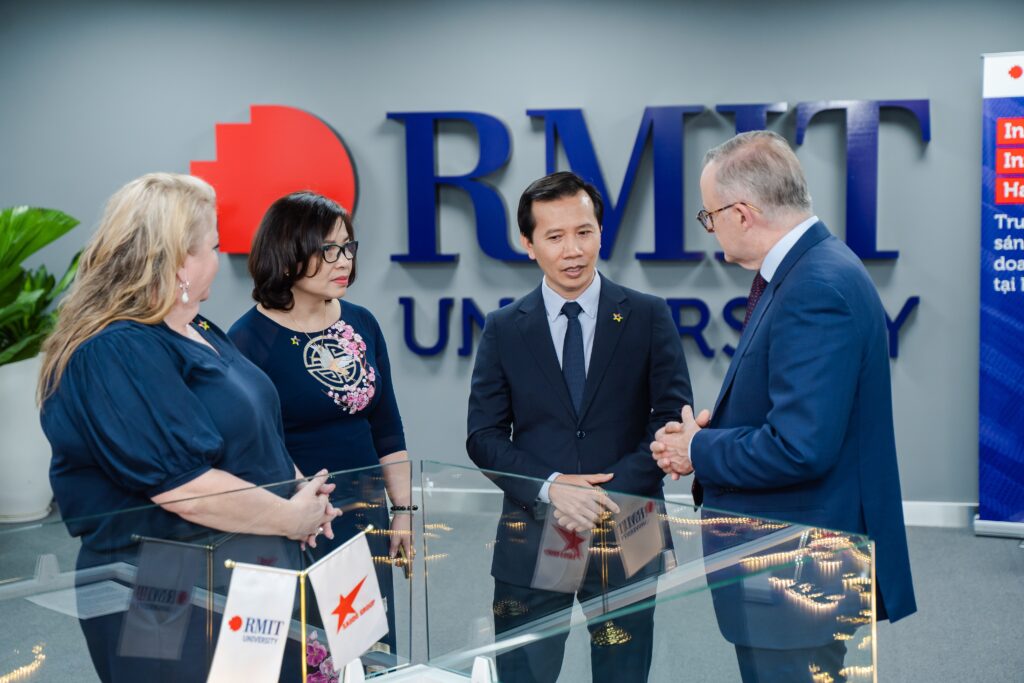 Representatives from Sao Do Group had an audience with Australian Prime Minister
Sao Do Group and RMIT University signed a strategic cooperation agreement in September 2022 with the aim of enhancing the quality of human resources at Nam Dinh Vu Industrial Park, particularly high-quality workforce with the necessary skills and expertise for international integration. This commitment by Sao Do Group aligns with the goal of sustainable development, as we believe that investing in human capital is fundamental and core to our mission.
The strategic cooperation agreement with the High-Quality Training Program has been successfully implemented.
In March 2023, Sao Do Group and RMIT University launched a training course for 80 management-level participants from businesses operating within industrial parks in Hai Phong. The entire funding for the program was sponsored by Sao Do Group.
The training course, spanning one week, offered a diverse range of activities and featured experienced foreign instructors who delivered cutting-edge knowledge. Despite its short duration, the course equipped the participants with new perspectives and practical skills that could be directly applied to their work and businesses. The pilot program focused on two crucial skills: "Influential Communication" and "Financial Management." It aimed to enhance the skills of new employees and middle-level managers in the industrial parks, including Nam Dinh Vu Industrial Park under Sao Do Group.
The program proved to be highly effective in providing valuable training and contributing to the development of a high-quality workforce within the industrial park. This successful implementation demonstrates Sao Do Group's commitment to sustainable development by investing in its human capital, which is considered fundamental and integral to its core mission.
This pilot training course is the first step towards initiating further educational support projects by Sao Do Group
Nam Dinh Vu is an industrial park (a.k.a industrial zone) designed in conjunction with the northern Vietnam's seaport and logistics system. It is envisioned to develop alongside Hai Phong City and become a national logistics service center by 2025. To realize this vision, we understand that the transformation of industrial parks into modern, exemplary ones with the ability to attract high technology largely depends on the labor force's capability to meet and grasp these advanced trends. The pilot training program between RMIT and Sao Do Group has received strong support from the Hai Phong City authorities.
The success of this training course will provide positive momentum for Sao Do Group to undertake further educational support projects with RMIT University. We are currently discussing a collaborative roadmap to develop a Human Resources Training Academy in Hai Phong in the future.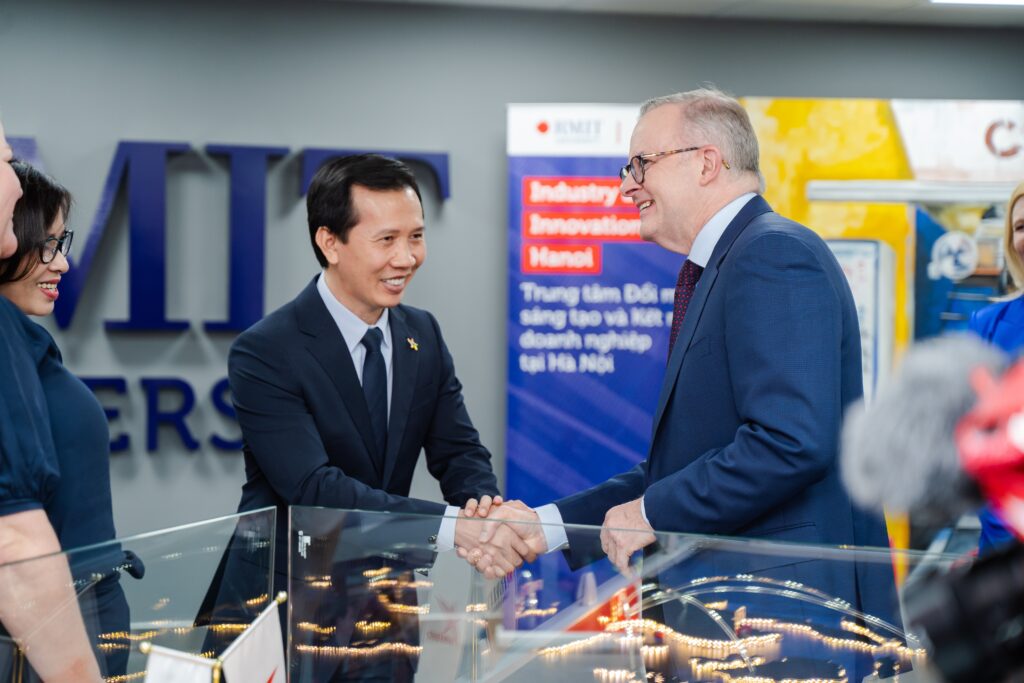 Sao Do Group and RMIT University will continue to collaborate in a long-term partnership to implement high-quality education projects for the workforce in Hai Phong 's industrial parks.
The Green Organization of Nam Dinh Vu Industrial Park continues to promote the message of green living and environmental protection
As a tradition, in line with the spirit of the environmental action month, Nam Dinh Vu Industrial Park initiates the annual "Green Saturday" event with engaging activities, and this year is no exception. The event brings together businesses operating within Nam Dinh Vu Industrial Park, creating a green community that spreads the love for the environment and promotes positive actions to preserve the living space and greenery of the industrial park.
"Green Saturday" in 2023 will be a new event featuring various exciting team activities—a gift from the Green Organization of the industrial park to all employees working within the industrial park. For more information, you can refer to the details provided at the link mentioned here
The past editions of "Green Saturdays" have concluded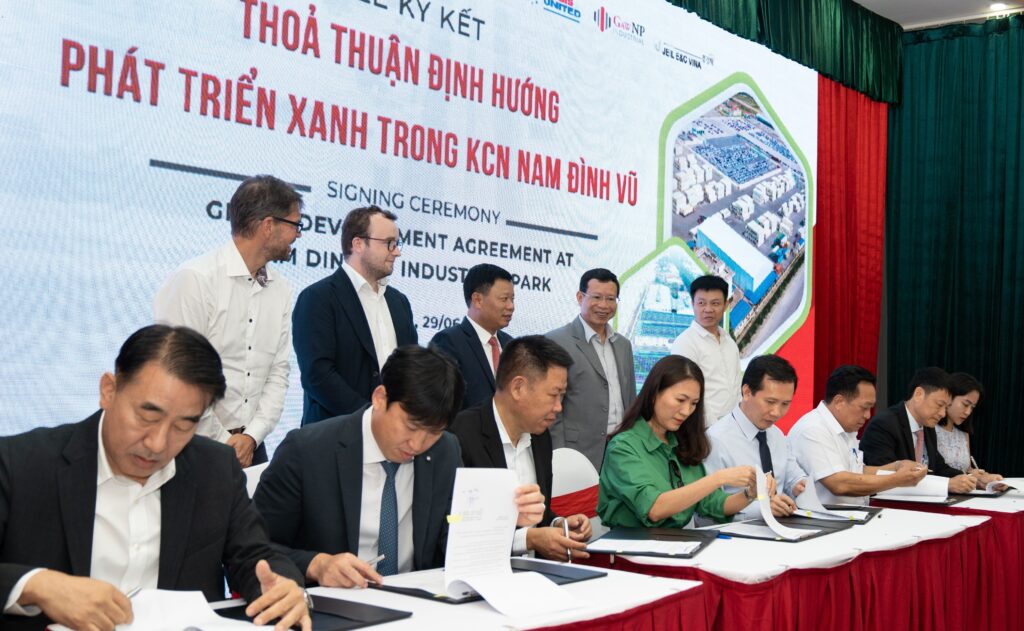 The businesses within Nam Dinh Vu Industrial Park have also collectively signed an agreement to cooperate in green development within the industrial park. They prioritize selecting environmentally friendly technologies and gradually implement and apply renewable energy in their production and business operations. Together, they are building a green living community and contributing their small part in spreading positive values and affirming the commitment to sustainable development.
Tag: Nam Dinh Vu Industrial Park, sustainable development, RMIT